Welcome to the Philippine Frontier Mission's
Online Mission Institute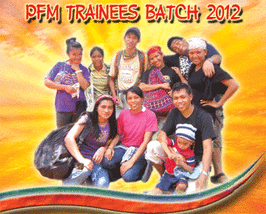 PFM is not only committed to send missionaries to the least reached people groups in the Philippines (and eventually, in Asia). It is also committed to provide the best practical training it can give to its missionaries and other interested individuals.
Presently, PFM's Evangelism & Church Planting Institute (ECPI) has developed and are offering the following online courses:
Personal Evangelism Course
Public Evangelism Course
Church Planting Course
World Mission Course
Tentmaking Course
Muslim Ministry Course
Online Institute for Mission Studies (click this link):
http://phil-frontier.edu20.org/
---
---
EVANGELISM & CHURCH PLANTING INSTITUTE
Frontier Missionary Training Program


PFM-Evangelism & Church Planting Institute (ECPI) offers a basic 4-month
Frontier Missionary Training Course
. It is designed to equip new missionaries in personal and public evangelism, with a specific focus on inter-cultural contexts. Those who finish this course are prepared to pioneer the Advent Message in any cross-cultural situation. There are two schedules for this course,
April
and
September.
The course is hosted in our
PFM's campus
in
Silang, Cavite
, one kilometer away from the Adventist University of the Philippines (AUP).
The course includes the following:
MODULE 1: Personal Evangelism - Subjects include: Finding Bible Interests in resistant communities through research (profiling), community surveys, health, etc., Principles of Sowing and Cultivating - how to prepare and conduct Bible studies.
MODULE 2: Public Evangelism - Subjects include: how to organize a sowing and a reaping crusade, Principles and Practice of Health Ministry - includes basic primary health care, natural therapies, NEWSTART, etc.
MODULE 3: Church Planting - Subjects include: principles of pioneer cross-cultural church planting. Chronological Bible Study Method - how to teach non-literate people using Bible stories.
MODULE 4: World Mission - Subjects include: Missionary Anthropology - how to learn and understand culture, Language Acquisition - principles and practice of learning a new language, Missionary Spirituality and Spiritual Warfare - how to grow spiritually and how to engage in spiritual warfare.
And many more...!
DOWNLOAD & FILL UP:
(right-click the link below, then save the file)
---
---
Copyright 2016 Philippine Frontier Missions
"Reaching Unreached People Groups in the Philippines and Beyond"