---
The Amazing Middle East
by Abdul Nur*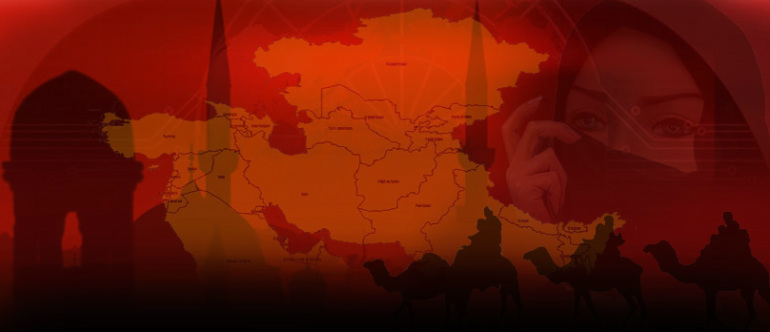 By giving the gospel to the world it is in our power to hasten our Lord's return.
We are not only to look for but to hasten the coming of the day of God."
EGW, Desire of Ages, p. 633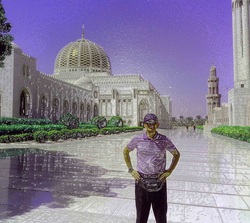 The year is ending. The Lord has given me such an amazing opportunity this year of visiting Adventist Churches in the Middle East.
Amazing because I used to only read about Muslims from the heart land of Islam but now I have traveled among them, I have sat and chatted with some of them, I have even accepted their gracious hospitality. Amazing, too, because of the differences in culture – between them and me.

For one thing, many of the indigenous Muslims, particularly in the Gulf countries, wear long flowing white robe (variously called, depending on the country, as kandura, disdash, etc.). I decided to have myself fitted in one country so don't be surprised if one day I look just like them! One Filipino friend of mine told about the elderly mother of a friend of his who visited them in the Middle East. The friend brought his mother to the mall. Each time she a kandura-wearing Muslim man passes her way, she would bow and greet: "Good morning, Father." Finally, after bowing to many "Fathers" in the mall, she complained to her son: "Why are there so many priests in this mall!" I don't know. Perhaps my friend exaggerated. But that which you only see in Quiapo in Manila, you see everywhere in the Middle East.

---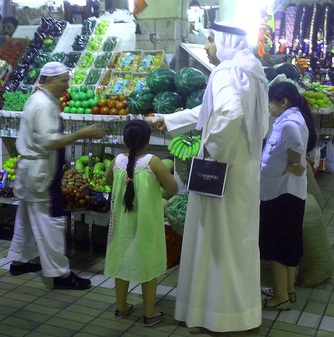 Another thing that amazes me is their long, flowing beard. Everywhere you look, you see Osama bin-Laden-look-alikes (unfortunately, I could not take pictures of these honorable long bearded men)! How I feel naked with my very teenie-winnie short "Mr. Wong" goatee! The other day, while I was waiting on the line in the airport's passport control (immigration) of one of the Gulf Countries, I saw a huge man with a foot-long beard around his face. It reminded me of Abraham Lincoln except his was several times longer. I imagined myself going to this guy's home country where the length of the beard represents how holy and wise you are and I realized I will never be able to measure up to these guys. (Although, the secular ones are envious of the fact that I hardly have any facial hair. Some of them spend hundreds of dollars a month to have their facial hair removed using the latest technology – just like many western women who do not like hair in their legs).


---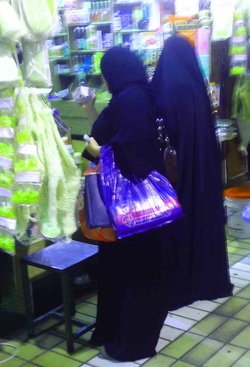 And the women, most of the indigenous women are wearing long, black abayas that cover them from head to foot. The only skin you see are those around their eyes and part of the nose bridge. Even the hands are covered with black gloves. Oh, here and there I see women only with black robes and veil with their faces uncovered. And then the more liberal ones only have their veils – and very fashionable ones at that. But by far, the Middle East reminds of me a convent with all women being nuns – except their habits are all black instead of the white we see nuns wearing. What makes the face veil important is that it is said that if the woman is beautiful, she must cover her face so the other men will not be attracted to her and sin. So, if the woman is not covered, that means she is not beautiful!


There are two other amazing things I found in my travels in the Middle East...
---
First: this region is a great and challenging frontier mission field.

There are 20 countries in the Middle East and North Africa Union. It has a combined population of 519 million people. Yet there are only 3,265 Seventh-day Adventists in this region of the world. They congregate in 47 churches. That's a ratio of one Seventh-day Adventist for every 159,000 non-Seventh-day Adventists. Majority of these are Muslim indigenous people. (

http://www.adventistdirectory.org/ViewAdmField.aspx?AdmFieldID=GMEU

). It's unbelievable! (The Palawan Mission alone has 111 churches and 22,788 members. It's an amazingly challenging field, yet the population in its territory is only 1 million!). I find it surreal that one person can be the "district pastor" of an entire country, let alone two countries (which is the situation in the Gulf countries I visited this year. There is even one country with a growing Adventist congregation that does not have a pastor so they have to invite short term pastors - for a one month pastoral assignment! I also cannot imagine living in a country where to get to the only Adventist Church, you have to travel 2 hours by car. Where I live in the Philippines, I only have to walk to the nearest Seventh-day Adventist church.

---

Second: Filipino Adventists are everywhere! It makes me proud to know that in the Gulf countries I visited, it's the Filipino Adventists who began the church! I guess for many Filipinos this does not come as a surprise. Just like when we were driving from Cagayan de Oro to Iligan City and a pastor friend of mine from Mindanao was repeatedly pointing out to our seminary professor where the SDA churches are. The professor said in exasperation: "Don't tell me anymore where which church is SDAs. Tell me which church is not an SDA Church!" Same thing, I guess. Which country does not have a Filipino?! The Filipino in dispersia - a phenomenon that has brought much blessings both to the Philippines and the world. But what I was going to say here is that amazingly, Filipino Adventists have been used by God to bring blessing to the regions where there are very few active Seventh-day Adventists. I do not want to be ethnocentric but I believe I can say that the church in the Gulf region is alive because of Filipino Adventists. In fact, many churches in the Middle East feels seems like it's a Filipino SDA Church!



---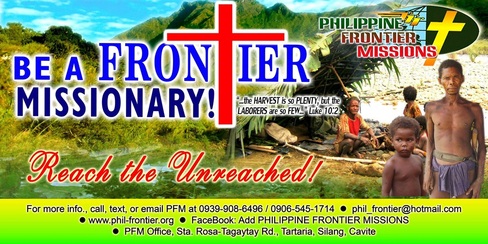 PFM's 2020 Vision:
In the last five years, PFM has adopted the huge dream of seeing Filipino Adventists become a strong force for finishing the gospel commission among the unreached in the Philippines and beyond. Today, 40% of the world still has not intelligently heard the gospel message, yet only 2% of the Christian missionary workforce is going to them. Traditionally, the Philippines has exported manpower for economic reasons. PFM is now dreaming together with the Middle East and North Africa Union that we can export Filipinos as missionaries to the rest of the world too. That Filipinos will also go the rest of the world to earn the greatest investment return – the salvation of the millions of Muslims, Hindus, Buddhists, secularists, traditionalists, and other non-Christians. PFM does not have a lot of money, but we have a great dream and lots of faith in the God who has all the resources we need. We do not know how we can equip, empower, challenge, and mobilize the Church in the Philippines – the vibrant Filipino Adventists to go to the ends of the earth and work as self-supporting missionaries and then share about Jesus to their workmates and friends overseas. Won't you pray with us that God will make this happen within our generation? Better still, won't you decide to be one of the overseas self-supporting missionaries that God will send to the Unreached in the regions beyond (2 Cor. 10:16)?

--- Abdul Nur* (pseudonym)

---

Copyright 2015 Philippine Frontier Missions
"Reaching Unreached People Groups in the Philippines and Beyond"