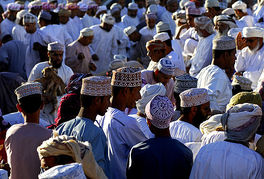 "Funny looking caps." I thought to myself. I was in Dubai when I first saw a group of M-uslim men who sported an unusual looking cap.
I asked my friend where they are from and he answered: "Amboniya*."

On my way to the airport, I met several of them again, this time, wearing colorful headgear. I thought, "Maybe they're from Africa." Most of them were darker looking than the Arabs. That was in November 2013. I never imagined that I would actually go to their country - a land that so mysterious and filled with so much amazing stories.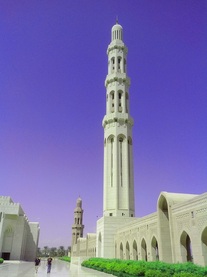 Last September, I had the opportunity to go to Amboniya, the land of the Frankincense. While there, I was able to meet with a number of Adventists, many of whom are from the Philippines. I saw how God can use faithful Adventist professionals in a land whose nationals are 100% Muslim.

I saw several mosques dotting the side of the well built highway. It was desert and rocky mountains all around the country, and yet I was amazed to see many places with green ornamental plants. Even though water is such an expensive commodity, the government is taking the effort to plant and maintain their surroundings. I could not believe either that this country had virtually no highways just 50 or so years ago. Today, you see such good infrastructure - everything is of quality standard.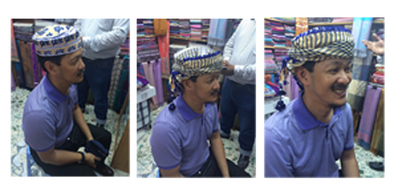 People there are fond of telling stories. I was surprised to hear that the character Sinbad the Sailor was from Amboniya. No wonder I see sailboats and miniature ships everywhere - even in the lobby of the hotel where I stayed - there was a 10 feet long replica of a sailboat from the Sinbad the Sailor movie! Going to the souk (market) is an awesome experience. There are tons of jewelry, clothes, antiques and many other useless stuff that are so nice to buy! If you have the money. Unfortunately, this country is one of the most expensive countries to do shopping in. So, that kept me from buying many things. (Luckily for my wife!) I did manage to buy the cap and colorful scarf which I knew I could only buy there. Or at least, I wish to be able to say that this was the real article (although it was made in China! I could not afford the ones hand made in Amboniya)!

One story that captured my heart was about the reigning king of Amboniya. Apparently, he likes to go among his subjects pretending to be just a common person. One day, he showed up and chatted with a security guard. In the course of the conversation, the king in disguise asked the guard what he would like to have if he had all the money in the world. The guard said: "I would like to buy a Lamborghini!" The king left without revealing his identity to the guard. The next day, there a Lamborghini was delivered for him in front of the guard house. The guard, after being told that he had chatted with the king exclaimed: "I should have asked for a mansion!"

The moral of the story? If you had that chance, what would you ask for? The truth is, we all have that opportunity. Our heavenly King is able to give you all that you need. He can supply all your needs according to His riches in glory (Phil. 4:19). In fact, God is able to do exceeding abundantly more than you can ever ask or think of (Eph. 3:20). What would you ask for?
Will you ask for something so fleeting as riches here on earth? You could. But many rich and famous people have found out that money is not enough.

I have a dream. It is similar to the dream and prayer of Jabez in 1 Chronicles 4. "Jabez cried out to the God of Israel, "Oh, that you would bless me and enlarge my territory! Let your hand be with me, and keep me from harm so that I will be free from pain." And God granted his request." 1 Chron 4:10

Do you have a similar desire? Do you want to ask our King for the ability to do more for Him and for the ability to be a blessing to the world? May God bless you and answer your prayer in 2015!
---- ABDUL NUR