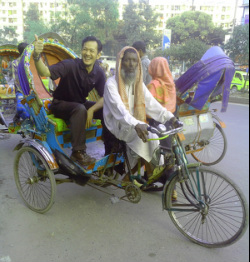 by Ab Nur

"Why are you in Islampur?" People come up to me and ask. After being there for 11 days now (and being stranded in Damam City because of the persistent transportation strikes) I could not help but ask the same thing to myself!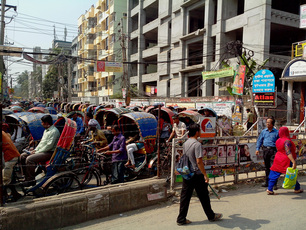 I arrived in Damam City last February 19. My main purpose for being here is to do research. To accomplish that research, I need to interview several individuals, and to visit some distant places far from the capital city (Damam). The first few days were alright. I was introduced to a Union leader here who became very helpful in arranging for my interviews. But when it came time for me to travel to the outlying districts, that's when I became aware of the volatile political situation here in Islampur. Apparently there is a high-profile war crime trial that involved a high-ranking official of a powerful Islamic party here. First, there was the student party that went to the street to lobby against the Islamic party. Then the Islamic party retaliated. Pretty soon, almost every other day it seems, there was someone declaring a transportation strike. I was scheduled to leave last week for the home town of a Islampuri friend who would bring to interview other people. It must have been postponed four times already by now. I had to change tickets twice because of the cancellation of bus travel.
I guess you will ask: "What is it like to be in Islampur?" Well, let's see now. I have only seen a very small part of Damam City actually. In fact, I only traveled the short stretch of the street where the Islampur Adventist Union Mission is located. So, it might be a bit premature to say what it really is like. But if you ask me what words come to mind right now when I think of Bangladesh, I would say: Rikshaw and Chili (spicy hot) food!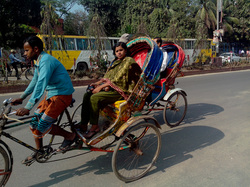 Funny, in the same way that you see a lot of jeepneys everywhere in Manila, here, I see rikshaws everywhere and heading to and from all directions. They drive on the left here, but the rikshaw drivers (pedicab drivers) do not seem to care which direction they are on. But it's kind of fun to ride on one. It wobbles and sometimes makes me feel unsafe but looking at everyone, including women and children (some even have 5 persons on it) I guess its safe enough. Too bad I am not adventurous enough to just ride it back and forth - because of the language barrier. One of these days I will just take one and have it drive me anywhere the driver would go.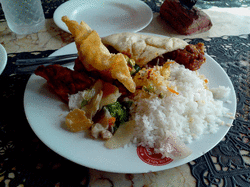 But one thing I will never forget about Islampur (and this country is not unique in this regard) is the spiciness of their food. My tongue is complaining already! Too burnt to eat anymore! And sometimes I wonder if they are lying when they say: "Not spicy!" Because even when they say "Not Spicy" it still burns my tongue! I wonder what it is like if they say the food is too spicy! Too bad, because I like how they make the food look so delicious.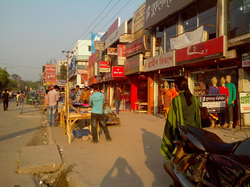 Oh, I should also mention the dress stores. There are so many nice looking clothes here. I see all the salor kemis (pants & blouse) that they wear and wish I know how to shop for my wife. The sari (or skirt with hanging blouse) is a little bit tricky to wear so I don't think my wife will want it.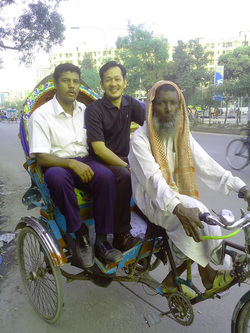 Well, I am told that I can travel on Wednesday morning (there's strike on Sunday-Tuesday this week, just as there was last Thursday). I guess we'll see if there's more to add to my word picture of Islampur aside from rikshaw, spicy food, and beautiful dresses.

Till that time, God bless!

Ab Nur

P.S. I have changed all names of persons and places in my article for security reasons.