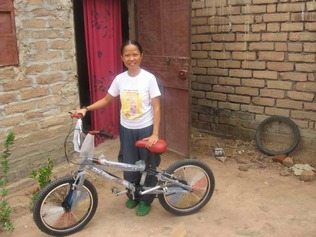 The first time I met her was in 1996. She seemed so fragile. I remember wondering silently: "How can she survive in the mountains?" But she was so sure that God wanted her to be a frontier missionary, I just had to give her a chance to serve. Deep inside me, I thought: "She'd be home in a year or two." She served for six years among the Tagbanuas in Quezon, Palawan where they had 21 converts.
One of the things I had been sharing with her batch was my dream of seeing our missionaries serve overseas. But I never thought the time would come when she would actually be able to go. Imagine my surprise when I heard that she had gone to China, where she felt called to go to. Another former PFM missionary and batchmate of hers (Ernest Ochoco Jr.), had been instrumental in opening the door for her foreign mission experience. She was able to teach English in China for a month but had to return home when her visa was not renewed. I thought that was going to be the end of her overseas mission. Surprise! When I met a friend of hers from Palawan and asked how Minnie is doing, she said: "Oh, she is a missionary in Africa!"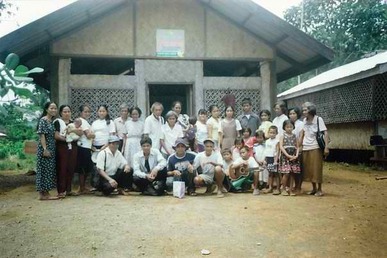 I met her twice since she had been to Africa. She has gained confidence in knowing that she has dared to do what others feared or failed in. She had gone to the ends of the earth – to places others avoided. In the Philippines, she went to the far flung areas of the dreaded malaria infested mountains of Palawan. And in spite of the song we used to sing in PFM "Please Don't Send Me to Africa", she went to the country of Chad in Africa! A true full blooded frontier missionary.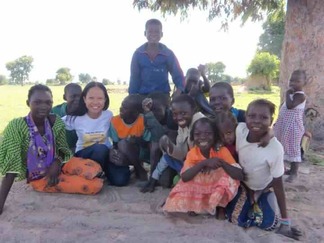 Last night, another surprise greeted me through a Facebook message from her long time friend Ernest. He wrote:

"Wala na si Ate Minnie. Kaninang umaga lang sa Chad, Africa where she is currently serving as a missionary health volunteer. Last night, comatose na sya. We prayed for a miracle. Then this morning we received the news of her death. It's hard to accept what happened pero ito ang kalooban ng ating Manlalalang. Ang magpahinga sya sa kanyang mga gawain. Let's pray for the bereaved family na nahihirapang tanggapin ang mga pangyayari sa dahilang biglaan ang mga pangyayari. Karereceive lang nila ng news from Ate Minnie's physician last night. Informing them about the slim chances of survival and that only a miracle can save her and then this morning she's gone."

She contracted a severe and virulent strain of malaria. Last Saturday morning (August 4, 2012), her brother Matt in Sampaloc Church, got a message from Minnie's doctor telling him her serious condition and the slim chance of her surviving. The following morning (August 5), they received confirmation that Minnie died.
When I read Ernest's message regarding Minnie's death, I was sad. Yet, part of me accepted it as something all of us in the frontier mission business, especially her batch, have consigned ourselves to. As I told Ernest, all of us who are serious in mission service are like soldiers in the Lord's army. We have committed our lives to Him and His service, and if required to give up our lives, would gladly do so. Knowing Minnie, I am sure that she believes the same way. She had faced the physical and mental threat of both the rebels and the military. She went against the threat of debilitating physical conditions. She had gone against strict foreign government restrictions. She has overcome hindrances to serving in the Lord's most difficult mission fields. She never stopped even when others said she cannot go. All because she had surrender her life to God.

As I close this tribute, I remember the time when she had to take a vacation because of health reasons. She asked for one month medical leave from PFM. But instead of going home or taking a rest, she went and joined a month-long crusade. When we frowned at her for not really taking a vacation, she said: "I am more rested when I am in a crusade."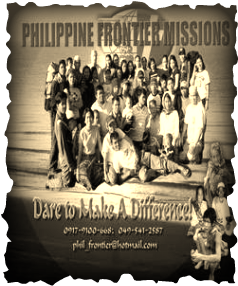 Well, today, she is truly resting - in the Lord. As Revelation 14:13 says:
"Then I heard a voice from heaven saying, 'Write this: Happy are those who from now on die in the service of the Lord!" "Yes indeed!" answers the Spirit. "They will enjoy rest from their hard work, because the results of their service go with them."
Rev 14:13 (GNB)
I am sure Minnie will be missed by her family, friends, and people she served. But I truly believe that those who are faithful to the Lord will one day see her again, walking with her Savior, Master and Friend.
Note:
You may check out Minnie's blog of her mission experiences in Chad (Africa) at
http://minnie4africa.blogspot.com/
You may also read the details of what transpired during her last hours, through her attending doctor's blog at:
http://missionarydoctors.blogspot.com/2012/08/minnie.html?spref=fb&fb_source=message )
You may also download a PFM video with a clip of Minnie while serving in Palawan. Click this link and download the video "People Need the Lord."